Beaded Friendship Bracelet:
Materials Needed:

Instructions:
Start out by picking the color of bead you want to work with. You can put more than one bead on a bracelet if you like; however, I prefer to only use one color per bracelet. If I want to present someone with multiple beads, I simply make them a few different bracelets.
Remember, the color of the bead you braid into the bracelet has a special meaning. Here are the colors you can choose from and what each color can symbolize:
Red: Energy, excitement, strength
Pink: Love, friendship, compassion
Brown: Comfort, reliability, the love of outdoors
Orange: Energy, enthusiasm, and warmth
Yellow: Joy, imagination, and optimism
Green: Prosperity, healing, and growth
Blue: Peace, happiness and loyalty
Purple: Calming, wisdom, and spirituality
White: Protection, cleanliness, and innocence
Cut the twine or hemp into three 30" long pieces. Line up the ends of the three pieces of twine or hemp and tie an overhand knot leaving about 3- to 4-inches of twine or hemp on the end. Tape that end to your work surface and then start braiding the long ends of the 3 pieces of twine or hemp together the same way you would braid hair.
Braid together your pieces of twine for about 3-inches and then slide the desired colored bead onto the middle piece of twine or hemp. Braid the piece together for about another 3-inches. If you want to use several beads in a row, slide a bead on an outside strand, cross that strand over the center strand, slide another bead onto the strand in the same position as the first strand, cross that strand over the center strand, and so on until you have the desired number of beads.
Experiment with using several beads and designs. You can braid the twine or hemp about 2-inches, slide on a bead, do a couple more braids, slide on another bead, and so on until you have 3 or 4 beads on your bracelet.
Once you are done braiding and beading, then tie another overhand knot to secure. Trim the ends of the twine or hemp so they are even, leaving about 3- to 4-inches of extra twine or hemp. The recipient can now used the extra ends to tie the bracelet around their wrist and then trim off any extra twine or hemp.
Swathi sree - MEC ( CSE ) 2013-07-29 17:43:09
---
How to make colored Roses:
I always wondered how some florists had bright blue roses or other colors that I knew weren't made in nature. It's actually pretty simple! You just put some food coloring in the water, and dip the stems in. The more food coloring, the darker the color! Even cooler? Using white roses and making the petals all different colors!
Swathi sree - MEC ( CSE ) 2013-07-29 17:21:22
---
Ice cream stick Photo frame
Take equal side of stick for making a square photo frame,then paste at both edge of four pieces of stick.Then cut athick sheet of equal size to that of pasted stick,then paste that thick paper on that stick,and make another equal size stick and paste upon that paper.Now insert your photo inside that frame.
priyankaa - MEC ( ECE ) 2013-07-28 12:37:29
---
Swathi sree - MEC ( CSE ) 2013-07-27 17:49:13
---
Simple steps to make Heart basket
Swathi sree - MEC ( CSE ) 2013-07-27 17:48:46
---
Here is a simple way to make a bracelet,

Objects required:

1.safetypins,

2.elastic thread,

3.coloured beats.



Swathi sree - MEC ( CSE ) 2013-07-27 17:38:53
---
The Art of Soul getting out........
Suganya.S - MEC ( ITE ) 2013-07-26 18:23:10
---
Wax Flowers
Materials:

Fabric paint
Flower thread
Green flower tape
Aluminium flower wire
Pips
Wax
Chart paper
Finix paper
This paper have 2 different textures on either side. It is very handy to work with - can be easily stretched, shrunk and even can be depressed to a cup like shape by using your thumb.
Method: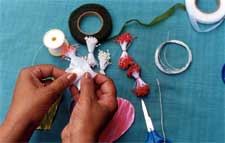 First draw the petals on the chart paper and cut them in different sizes. With the help of the

se petals cut out the original petals from the finix paper. It is always better to use the chart paper samples, to draw the outline on the finix paper and cut the petals carefully. It is stretchable and can give the desired shape of a fresh leaf or a petal. Now paint the petals with the fabric paint. The Finix paper and the fabric paint should be of the same colour. Finix paper is available in different colours, we can have our own colour choice depending upon the thing which we intent to do.
To make the flower, take a aluminium wire and tie 2 to 3 pips on the top end. The pips should

be folded at the center before being tied to the aluminium wire. Take two or three small petals and keep it around the pips and tie it with the flower making thread. Arrange the larger petals around the small petals and tie it carefully with out spoiling the shape of the flower. With the green tape wrap the aluminium wire till the end neatly.
Take a big round bowl with water and let it boil. Now place a small bowl with some wax in it and let it continue boiling (double boil). When the wax melts properly, dip the flower in the wax and dry it on a news paper. Next day arrange the flowers in a beautiful vase.
Suganya.S - MEC ( ITE ) 2013-07-25 22:30:51
---
Organdy Rose
Materials Required
»
Organdy Cloth
»
Green Tape
»
Thread
»
Aluminium Wire
»
Scissors

Procedure :

Lets start with the petals. Cut out a rectangle from the organdy cloth. Now fold the cloth to two equal halves to make a triangle. Unfold the cloth piece and bend a corner to the centre. Do the same with the opposite side. Fold it to two equal halves. Now slowly roll the corners to make the petal shape.
Using a thread, tight the knot of the petal. Similarly make more petals.

Take a petal and wrap it around the aluminium wire. The folded corners of the petals should face outside. This is the central part of our flower. Now gather the petals around the central part. Fasten them using a thread. We are done with the flower part. Now cover the rest of the wire with green tape.
Wow!!! Your organdy rose is ready. Arrange them with leaves if you want to.
Suganya.S - MEC ( ITE ) 2013-07-25 22:28:59
---
Suganya.S - MEC ( ITE ) 2013-07-24 23:59:39
---
Spider- You will need black pipe cleaners and googly eyes. Glue legs and eyes to your black painted bag.

Suganya.S - MEC ( ITE ) 2013-07-24 23:41:24
---
U can also do it....

Suganya.S - MEC ( ITE ) 2013-07-22 21:33:38
---
1. Homemade Greeting Cards
o Homemade greeting cards are an excellent way to express heartfelt sentiments to friends and family. Although homemade greeting cards are usually thought of as a children's craft, they make a fun activity for grown-ups too. Fold a piece of heavy construction paper in half and cut the unfolded edges with pinking shears for a polished look. Cut, layer and glue various colored, shaped and sized pieces of construction paper onto the front and inside of your greeting card for an eye-catching design, and use letter stencils to give text a sophisticated, playful or professional feel. Add small embellishments, such as a tiny ribbon bow or a piece of felt, to the front of the card for an extra special touch.
Construction Paper Flowers
o Construction paper flowers are fun and easy for people of all ages to make and can add a whimsical touch to any room. Cut a flower shape out of two sheets of different colored construction paper. Glue the flower pieces together, positioning one on top of the other, overlapping slightly, to give your flower a multi-colored, multi-dimensional look. Cut a small foam ball in half and glue one of the halves, smooth-side down, onto the center of the flower. Gently push a piece of thin, pliable wire up through the back of the flower and into the Styrofoam center of your flower. Glue a few construction paper leaves onto the wire for a fresh-cut look.
o

Read more: Arts & Crafts Using Construction Paper | eHow.com http://www.ehow.com/info-tip_8214643_arts-crafts-using-construction-paper.html#ixzz2RjUKvPrY
BY
GREESHMA.U.A(MCA)
MIT
U.A.GREESHMA - MIT ( MCA ) 2013-07-14 11:08:00
---